Cows, Bees and Hypnotists Oh My!: Kansas State Fair
Written by Nicolas Fierro on September 22, 2022
You would not expect the amount of people that attended the Kansas State Fair on a Sunday afternoon. Walking into the fair I would take a guesstimate of about 10,000 were in attendance. Just to think that so many people would come out to have a great time on hot Sunday afternoon is amazing.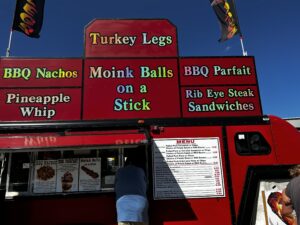 September 18 concluded the 10-day stand of the state fair festivities following labor day and I had to make sure I did not miss out ongoing. I do not regret my first time ever state fair visit.
You know what they say, everything is bigger in Texas. Being from Texas I never attended the state fair there, but this Kansas fair, I bet can most certainly compete with the huge Texas state fair.
My friend Jacob Brown who is resident of Kansas, encouraged me to go on this fair with him. Jacob has been to the fair practically every year and showed me all the great sights, food, drinks, art, livestock, the list goes on. He was a great tour guide.
There was so much going on, it had me feeling overwhelmed on what to check out first!
I am an athlete and I take pride in taking care of my body, so you just imagine the food choices I encountered at the fair. Everything is fried, so I made sure I had a hard week of workouts to prepare for the delicious food I would not want to miss out on.
I ate many exotic foods like a jalapeño honey dip, maple bourbon jerky which was in my opinion the best beef jerky you can eat, honey sticks, a pumpkin pie dip that myself and Jacob kept dipping our mini pretzel sticks that were given to us for samples, and many more!
Abby Porter, a livestock employee at the fair, states that the fair uses so much oil for the food, that it is "bad"for the amount of fried food the fair has.
Porter talks about the, "gyro" being the healthy food option that is "highly recommended", from Porter.
The fair had so much to offer. Especially the livestock which was fairly new for me to see. Being from Dallas and El Paso, Texas, I am not used to seeing farm animals like the ones I saw at the fair. Animals like pigs, cows, cattle, goats and horses were very common to see around  the fair.
Cows and pigs are the most common livestock that I saw. I was able to see show animals (specifically cows) that were grand and reserve grand champion winners. These cows were, "raised specifically for shows", states Porter.
For the animals that were not for show that I saw were the goats. These are called market animals, meaning these animals will get butchered. Market animals are, "raised for the purpose of going to market, like putting on weight and muscle so that they can have the most meat when they get butchered", states Kiersten Morgan, a state fair livestock employee.
Not only were livestock animals the steal of the show, but so were the insects like honey bees! Honey bee expert, Joe Dewey speaks about the honey that was present at the fair. "The honey is all locally produced in Kansas, which is great for allergies and we mixed in various flavors to just really encourage people to try whatever they like".
Dewey works in a honey bee organization called the "Kansas Honey Producers Organization", and he states that the organization keeps the honey bee workers to "work together to determine how to be successful in raising bees and taking care of them".
Myself and Jacob were able to see bees closed in a glass door with honey combs all over. Dewey pointed out to us the queen bee which you can tell is bigger than all the other bees around the queen.
Ron Diamond, a hypnotist from Kentucky, who also does magic and "mentalism", was in attendance at the fair and had about 100 plus people watching his performance.
Diamond performs at fairs all over the Eastern half of the country, including Texas, Iowa and Kansas.
One of Diamond's specialties is diminishing people's phobias and turning their main point of focus somewhere else other than the fear and anxiety.
Diamond states about, "tapping into the pleasure side of the brain", during the shows which results into triggering the audience's endorphins to have a pleasurable time.
"I believe we are 3-legged stools, physical, mental and spiritual beings," Diamond states about having balance within your life which will build a "strong foundation".
I found it very interesting about what Diamond was talking about, because he talks about "mindset being everything". This really stuck with me because, whatever you tell yourself, how you think, affects your spirituality whether it be good or bad for you. 
The National FFA Organization, which used to stand for Future Farmers of America (FFA) after the organization changed it back in the 80s. "After trying to be more inclusive to urban members, they changed the name but kept the old acronym for its historical preservation", states Jacob.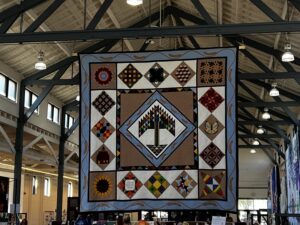 The National FFA Organization displayed many agricultural projects at the fair. It was interesting to seeall the creations that these people made, such as a smoker that was shaped as a Volkswagen car. It even had to the logo in the front of the smoker and on the make-shift tires.
The Domestic Arts building possesses some of appealing work of arts, such as quilts of all kinds. These quilts  were entered into competition and the quilt made by Patty Nelson out of Manhattan, KS achieved 1st place, which was displayed at the front of the building for everyone to see.
The Strolling Piano, which is a unique concept of musical entertainment, had a pianist performing songs while riding around, on wheels through the fair.
This was something I have never seen before.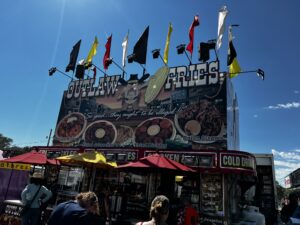 The pianist performed "Sweet Caroline" and had the audience that was around, sing along.
The "Outlaw fries" was a great food item at the fair. Had the best crisp and crunch with great balance with the salt and pepper. The ranch, sauces and toppings made the "kick" of the fries which changed the way you will taste a regular french fry.
Jacob talked about how people "come all over the nation", just to try these outlaw fries.
Ambucs sweet shop definitely got my sweet tooth satisfied. The variety of ice cream flavors, topped on a waffle cone had you feeling refreshed after a hot day. Not to mention, the jumbo cookie they offer you for as little as a dollar is just as delicious as the ice cream.
---
Reader's opinions
---