KWU Praise Band Celebrates Fields of Faith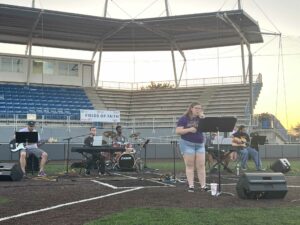 On Wednesday, September 27 KWU's Praise Band led Fields of Faith at Dean Evan's Stadium. Fields of Faith is a service that brings the community together to worship and praise God.
The KWU Praise Band includes Madeleine Johnson (vocalist), Scott Jagodzinske (bass guitar), Taiton Reed (keys), Joshua Chelvin (piano), Simeon Faagai (acoustic guitar), Grady Tatum (drums), Cynder Toman (tech), and Katelyn Botz (tech).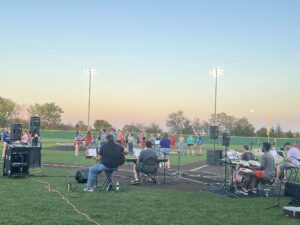 Before the Fields of Faith service, there was a cookout for those in attendance.
Nick Fierro, a senior at KWU, who attended Fields of Faith said, "What stuck out to me was the community and everybody that was there, or a great amount of people that were there of all ages and generations. It was good to see everybody gather and show the kind of love that they have for Christ."
The KWU praise band opened Fields of Faith with 'God of Wonders' and 'Joy of the Lord.'
Aaron Glendening welcomed everyone and invited them to worship with the band.
Then the KWU Praise Band then led 'Blessed Be Your Name' and 'Reckless Love.'
Aaron Glendening, FCA Coordinator, put together a group of students and community members to bring testimonies and the sermon.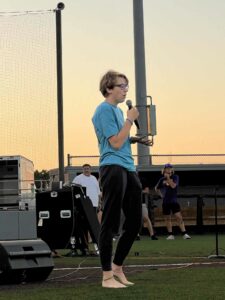 "My favorite part about the Fields of Faith was the speaker that gave her own experience in faith. I felt it was wonderful that they found someone willing to tell their story in front of a crowd," said Katelyn Botz.
A group of FCA students talked about the four important parts of the bible.
After the sermon, the band led the last two songs, 'How He Loves,' and 'Graves into Gardens.'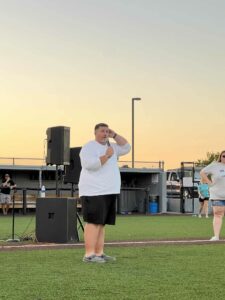 "Towards the end when Aaron Glendening gathered everybody and said everybody get into a circle around the infield, and we just did the last worship songs led by the praise team that was there at Fields of Faith. Then after the songs he then ended off the Fields of Faith with a prayer. I think that was very powerful because when you gather everybody there was no pride no boundaries just all love and wanting to connect with others. The environment felt very welcoming to everyone," states Fierro.
Fields of Faith is just the tip of the iceberg for campus ministry. Throughout the year there will be more opportunities for them to spread the word and love they have for God. Every Monday KWU Praise Band worships at the UUMC on campus for anyone who wants to attend.
Campus ministry also has student interns throughout campus. Peer ministers sit in the sac every week for what campus ministry likes to call 'Blessings on the go.' Once a week all the peer ministry interns spend an hour in the sac talking to students about their lives.
---
Reader's opinions
---