2022 Spring Football
Written by Javin Fish on May 12, 2022
On Saturday, April 23, 2020 the Kansas Wesleyan University football team had their first spring football game in two years. The football team did a light stretch, a short individual., And then straight into battle. The offense did a phenomenal job of scoring a little over five touchdowns, even though it wasn't a cake walk, the defense put up a fight as well . Coach Leonard, the defensive coordinator, had the defense looking more ready than ever. Last season, Myers Hendrickson led the Coyote football team with a record of 11-2 going 9-1 in the KCAC. Coach Hendrickson decided to coach at Western Illinois, leaving the head coach job open at K Dub. Ex defensive coordinator, Matt Myers, filled in the head coaching position. He made some changes in the staff. Coming from Southwestern our new offensive coordinator, James Bauer was convinced to fill in the shoes. Coach David Leonard was promoted to defensive coordinator. Johnny Feauto, KWU's quarterback for the 18-19 seasons has been promoted to full time staff and will work with the wide receivers. Three former players also have been added to the staff, coach Nolan Jones, coach Justin Sullivan, and coach Anthony Bargas. Coach Jones as the defensive line and strength and conditioning coach, coach Sullivan with linebackers, and coach Bargas with fullbacks and tight ends. Interviews from a defensive player and an offensive player with each having something to say about this year's 2023 football team.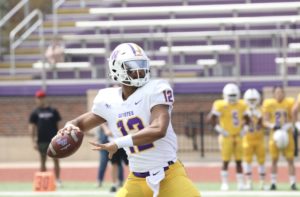 The first player that was interviewed was quarterback Tony White. Tony White is a senior business management major from Cincinnati, Ohio. Tony threw the majority of the touchdowns during the spring game and showed everybody why he is QB1. In 2021, Tony appeared in 9 games with 32-49 completions, throwing for 510 yards with 3 touchdowns. He was asked a few questions about his progress during this year's spring football camp. The first question he was asked was how has this year's spring ball camp gone for you and how was the spring game? He replied," Spring ball was great, it felt really good to start on the new playbook and build up chemistry with the new guys. The spring game was very good for me and I am happy with the way the offense performed but there is still a lot of work to do." This upcoming season the Coyotes have some big shoes to fill. Whites response to how he thinks the 2022 Coyote football team will perform this fall is as follows. "If we all come together and everyone has the same mindset we will be a championship caliber team." He was also asked of his expectations for the team the 2022 fall season, "Win National championship, win conference championship, receive 1st team all American, player of the year and break all single season records."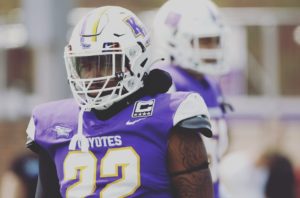 The second player that was happy to interview was middle linebacker Devante Gabriel. Devante is a senior from Houston Texas , majoring in sociology and minoring in criminal justice. Devante played middle linebacker in 2021. Having 3 games played with 21 total tackles. 10 solo tackles, 11 assists, 1 sack for an 8 yard loss, and an interception   We asked him the same questions as Tony and he had some great responses. First he was asked how spring camp was for him. He replied," Spring was very very productive. The game continues to slow down for me to be a better player. I learned small things to get me to the level I need to be to help impact my team." Then he was asked about his performance in the spring game. "For the spring game, I did not get a bunch of reps but I felt it was just a glorified practice. But it was good to see my teammates fly around and get better at their craft." Afterwards, he was asked about his thoughts on this year's 2022 team and how they are going to perform this fall. His response was, "Well there is only so much I can say but I will say we are going to compete due to the drive of our great coaching staff. Us players have to understand how important it is to take advantage of our opportunities.This is a game of inches  I feel will fight for that extra inch." Last he was asked what the expectations are for the 2022 football season? He answered, "The same goal in all sports!!! To be the best and run the table and leave our mark in history. #RollYotes." 
The 2022 Coyotes football team has a lot of talent and potential to really do some great things this fall. After a great spring, the boys are ready to hit the beaches this summer break. Ready to attack this fall for a run at the national championship. 

---
Reader's opinions
---