Theatre Takes a "Step" Forward
Written by Jacob Brown on September 21, 2022
I snuck into the back of our auditorium just before call time. The room was packed to the brim with parents, teachers, and community members, all of whom had come simply to support the cast and crew. For a senior year musical, the pressure was on. I was the lead, Shrek, and the green face paint could only hide how nervous I was. This was my first lead role. Beyond the obvious, my first role of a popular character also requires my singing ability. All I could do was take my positions, put on my signature Shrek grimace, and encourage my fellow actors as the chorus opened the show. 
Looking back, that performance was one of the easiest to do in my life. The choreography was simple. The cast was inexperienced and just doing it for fun. I was only beginning my journey into acting. As a theatre major at Kansas Wesleyan University, I have come to understand just how challenging performing on stage can be, and how rewarding overcoming that challenge feels.  
Theatre at KWU
This fall, KWU Theatre, under the direction of Karen Brassea, is committed to the production of a comedy based on an Alfred Hitchcock film, The 39 Steps. This play is set in 1930's Great Britain, where a hapless man gets wrapped up in a sinister plot filled with spies, murder, and most dreadful of all, Scottish accents. With a cast of nine members, the actors cover a wide variety of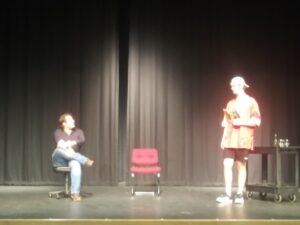 characters. With several people new to acting altogether and many returning actors, the motley crew fully commits to the acting, regardless of character roles.  
Karen Brassea – Director
While discussing the play with director Karen Brassea, she revealed a few insights to the play. "It is an extremely complicated show. There are a lot of moving parts." 
Karen, a former Broadway actor, has been directing plays and musicals at Kansas Wesleyan for eight years. With her experience, she has guided many young actors though difficult productions before. With her style of directing, she can quickly make changes when needed. Karen uses a technique called "Organic Directing." This method allows for a director to stray from the directions in the script and block and choreograph based off the need of the production and actors. This allows for more originality and versatility. In my own personal experience, she allows the actors the freedom to be the characters, after she helps them find the role and its details. 
Karen also is known for her encouraging words and smiling face at practices. Always quick to lighten the mood and assure new actors not to get upset with themselves, Karen's positive attitude strengthens the safe aura that the theatre represents. "The theatre should be a safe space for everyone to express themselves and be emotive without fear of judgment," is a statement made regularly by Karen in Fitzpatrick Auditorium. 
Maddie Johnson – Milkman, Mr. Memory, Inspector, Dunwoody
Another joyful personality in the theatre is Maddie Johnson, a sophomore Education Major at KWU. Maddie is a clown, meaning she plays male and female roles for short periods of time. Some notable roles she plays are Mr. Memory, a theatre act which is key to the story, a police officer, a milkman, and many more. Maddie told me," My role(s) e(s) in this show is pushing me in every direction. I'm having to learn new dialects, pantomiming, genderbending, and playing off the other actors on stage. Thinking on our feet is especially important." Covering several different accents, this play is not Maddie's first at KWU. 
"In my first year of college, we performed "Arsenic and Old Lace," I helped backstage, it was the most rewarding show I had ever been a part of. I learned how to use a round saw, paint detail, and lights. Not only did I learn a lot about light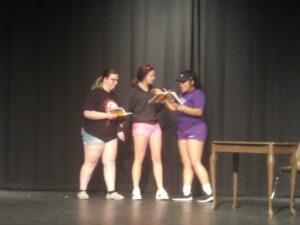 technology, but I also learned how much work goes on behind the scenes."   
Maddie also has a long-held love of the theatre, "I have always loved theater but what really got me going was my first community theater performance in my hometown. We did "Belongings", and I was cast as my best friend's little sister." 
When I asked Maddie to describe her personal acting experiences at KWU, she stated, "I would describe my acting experience at KWU as "wonderfully crazy," not only does Karen push us as actors but also as human beings. From the time we enter the auditorium to the time we leave; Karen works with us and expects the best out of us. It gets tiring and crazy, but it is all worth it in the end." 
Maddie also informed me that she has a favorite role. "I play many roles throughout this play but my favorite character I am playing is the milkman. He is sarcastic and hardworking, and I get to explore being a gender-bending character." 
Sabrina Todd – Margaret
A newcomer to Theatre, Freshman Sabrina Todd is acting for the first time on stage at KWU. Sabrina stars as the attractive Scottish wife, Margaret. Sabrina had this to say when asked what brought her to act, "I always either on TV or on Broadways thought what they're were doing in front of so many people was so cool and wanted to be a part of something like that." 
Sabrina stated that she appreciated the process of acting, "Learning, making mistakes, and correcting, learning, and improving. The theatre is a wonderful, very safe space for learning and being vulnerable in trying new things on stage." 
However, with it being her first time on stage, Sabrina did admit to some struggles; "All of it is a challenge just in it being all new to me, I've been able to improve and learn better techniques in how to talk, move, and react." 
With just one character to play, Sabrina has formed a bond with Margaret, "I like that my character is shy and a little awkward, because it's easy to use my nervousness of being onstage to portray her character in that way." 
As a first-time actor, Sabrina has become known up the stage and have fun with her Scottish accent. She even went as far as to speak solely in Scottish while shopping with her parents for a weekend to practice. She is a welcome addition to KWU's acting crew and will continue exploring her acting skills here. 
The Next Step
These two young actors are perfect examples of the production currently working to perform on Homecoming weekend in October. With notable moments at practices such as leading-man, Nick Rogers, using his acrobatic skills to nail home a joke, Eric Stokholm finally getting to play a villainous role, and my own blunders and recoveries in portraying several women. The 39 Steps will be a must see show for anyone seeking quality theatre in Central Kansas. The lessons I have learned so far would have alone made me a far better actor in a month of rehearsals compared to two years of acting in high school.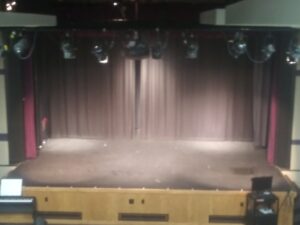 Returning to my debut as Shrek, as I waited on the right wing of the stage, I heard the dialogue running down the time until I had to run on stage and sing the opening number. I knew there was no going back now. So when the time came, I triumphantly marched onto the front of the stage, and proclaimed to the audience my opening line. 
"And that's just the way I like it!" 
As I burst into song with the entire cast behind me, I only felt the adrenaline and joy of performing. My fellow cast members and I radiated an energy of excitement. We ignored the missed notes in the songs, and the improvisation of lines when we forgot our cues. We simply acted. We simply lived. At the end of the night, after the applause had long since ended and the supporters went home, I knew why I loved theatre. Because on that stage magical things happen, and here at KWU, I know the magic is still there. 
---
Reader's opinions
---