What's going on at KDUB for Black History Month
Written by Kyra Nolan on February 20, 2023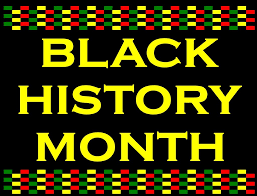 It's February which means Black History Month is here! Black History Month was created to focus attention on the contributions of African Americans to the United States. Now some people have always wondered why Black History Month is in February. They changed Black History Month to February in 1976 because February has two important figures' birthdays from black history. February 12th is President Abraham Lincoln who abolished slavery and February 14th is Frederick Douglass who was an abolitionist and an author.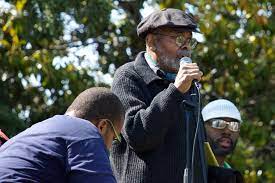 Kansas Wesleyan University celebrates all multicultures of their students. This year for Black History Month the Multicultural Student Union held a Poetry Slam last February 3rd. Black poems are linked to the experience of African Americans through their history in America, from slavery to segregation and the equal rights movement. The Poetry Slam was free for all students to attend and read their pieces. Writing poetry lets us get out our feelings and thoughts on a subject while reading it encourages us to connect and find meaning in our experiences.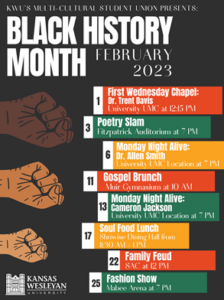 Another event going on at Kansas Wesleyan University to celebrate Black History Month is a Gospel Brunch on February 11th at 10 am in Muir Gymnasium. KWU is encouraging the community and students to attend with a goodwill donation of $10 requested. The UMC is hosting Monday Night Alive on February 13th at 7pm with guest Cameron Jackson. On February 17th in Shriwise Dining Hall there will be a Soul Food Lunch from 8:30 am to 1 pm. Family Feud is going on in the SAC at 12 pm on February 22nd. To end off celebrating Black History Month they're putting on a Fashion Show in Mabee Arena on February 25th at 7 pm.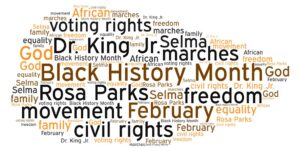 Black History Month is an opportunity to spotlight and celebrate the achievements that African Americans have accomplished in this country, despite the history of racism and oppression. Kansas Wesleyan always celebrates Black History Month with different activities for the students to participate in and enjoy. Make sure you don't miss any of the upcoming events the rest of the month of February.
If you want to read some poems for Black History Month click here!
---
Reader's opinions
---