Kansas Wesleyan Volleyball overcomes McPherson
Written by Beau Grant on September 24, 2023
By Beau Grant / Co-Sports Editor
The defending Kansas Collegiate Athletic Conference champs Kansas Wesleyan University volleyball took on McPherson Wednesday night.
The atmosphere in Mabee Arena is what made the night special, as the Kansas Wesleyan baseball team made an appearance and was loud and proud the whole night.
"The match was exciting, it was a great atmosphere from start to finish, and I hope to see more of that type of atmosphere at all our games," said Dave Toelle. McPherson was the former school of head coach Jessica Biegert where she served as head coach for several years, but for her, it was just another match, "I want to beat every team regardless of where I have been, it was just another friendly KCAC matchup."
In set one Kansas Wesleyan saw themselves down late, but came back and tied it at 24, then the Yotes scored the next two points winning 26-24. The second set was all Coyotes and they dominated that winning 25-17. McPherson did not go down without a fight, as they dominated the third set, winning 25-15. No team had a lead bigger than 3 until the Coyotes started to pull away late, and the Coyotes ended up winning 25-19.
"I think the girls played well, we served them aggressively and were able to execute back on easy balls returned to us," said Biegert. Rylee Serpan led the team in kills with 15, Kylee Harris had 13 and Gianna Adriaanse had 9. Josie Deckinger had 40 assists and 13 digs.
The reigning NAIA defender of the week, Kelcey Hund, had 28 digs.
"The win over McPherson was a big test and marks the start of a challenging stretch for the Coyotes," said Toelle. The Yotes will take on another very talented team this week in Ottawa, then will have to go on the road in some hostile environments at Tabor and Saint Mary's.
The Coyotes will also face several other solid KCAC teams like Avila, Oklahoma Wesleyan, and Bethel. If the Coyotes keep playing like they are, they should have no problem getting back-to-back KCAC conference championships.
"It was fun to see our team come together to play hard together, and we are excited about the rest of the upcoming matches", said Coach Biegert. The Coyotes will take on Ottawa and Hannibal-LaGrange University in a triangular this Saturday at Mabee Arena.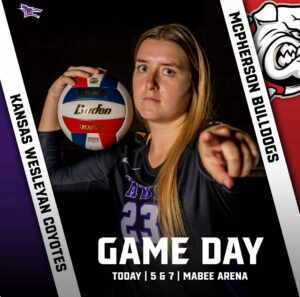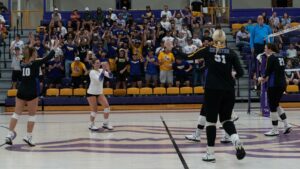 ---
Reader's opinions
---