KWU Scholarship Days, Possibilities are Endless
From theatre, DECA, nursing, United Methodist, debate and forensics, and STEM to simply being a Salina high school graduate, can set you up to receive a scholarship that will aid in your financial burden and help you afford and pay for college.
That's right! Simply being a high school or home school graduate from Saline County can land you a $17,500 per year/$70,000 over four years of undergraduate scholarships. The qualification for this scholarship is general, so let us dive deeper into a few specific opportunities that require your interest in the study and offer information about what is required of you.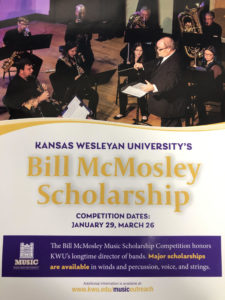 The Bill McMosley Scholarship is one that music students wouldn't want to miss this opportunity. The Bill McMosley Music Scholarship is Wesleyan's music competition as a biannual event for students who are interested in participating in vocal and instrumental. Major scholarships are available in winds and percussion, voice, and strings. An incoming student can earn up to a full tuition scholarship. The competition dates in 2022 are January 29 and March 26.
In addition to the McMosley Scholarship, the following opportunities are defined more specifically on the kwu.edu website, but here are their general requirements.
The Barbara Marshall Theatre Scholarship is a scholarship competition in honor of long-time KWU professor Barbara Marshall. Multiple scholarships will be awarded to incoming theatre students(s).
Gary Harmon Scholarship is a competition focusing on students entering KWU for Debate and Forensics, in honor of the school's longtime coach. Multiple scholarships will be presented.
Dr. Dorothy Hanna Scholarship is a competition in honor of long-time KWU professor, Dr. Dorothy Hanna. Multiple scholarships will be awarded to incoming STEM students(s).
What else is out there that you don't know about? Well, if you want to take a look you can find additional possibilities and all of the requirements on the website or reach out to KWU Admissions at kwuadminssions@kwu.edu. Read about the specific scholarships listed above and more opportunities HERE
---
Reader's opinions
---