From Tip-Off to TikTok: The Story of Koby Campbell
Written by Victor Cascio on February 15, 2022
Last week, KWU senior Sisipako Vihekite unveiled the story of his transition from visions of playing Major League Baseball to now a heavily-devoted powerlifter who also entertains millions of accounts on the famous social media app known as TikTok. 
What made his story so interesting was the total 180 degree turn in mindset that ultimately strayed him away from the batting cages and towards the "For You Page." This week, we catch up with another Coyote who struck gold playing the TikTok lottery, also amassing a following of over a million. However, KWU sophomore Koby Campbell still holds onto his passion for basketball (which stems partly from the loss of a major icon, more on that later) while simultaneously providing some of the best rap content on social media. While Campbell's story doesn't involve a drastic change of heart like Vihekite's did, it remains a fascinating tale of a young college student-athlete who suddenly became one of the focal points of "RapTok." 
From the second that Campbell was born in Wichita, Kansas, basketball was in his blood. Coming from a father who also spent his college years playing ball, it almost seemed like his desire to play the game was some sort of inherited birthright. He was quickly swept up in the fast paced, competitive world of youth basketball known as the American Athletic Union (AAU), one of the most intense junior basketball circuits in the nation. From there it was on to high school ball, and then ultimately to fulfilling his dream of playing collegiate level basketball. 
However, Campbell's path to college basketball was not without moments of indecision. Oddly enough, Campbell also had to make the difficult decision when it came to which sport to pursue. And, oddly enough again, the sport in question was once again football; Campbell had received multiple Division II offers from the likes of Fort Hays State and Emporia State to play at the safety position. After playing basketball for his whole life, it looked like 4 more years of wearing helmets and pads (as opposed to headbands and Air Jordans) was not only on the table, but at one point was an overwhelming possibility. 
"At one point I was almost 100% convinced that I was going to go play football," recalls Campbell. "But I just realized that basketball was what I wanted to do."
So once again, it was sheer love of the game that triumphed over skill/the opportunity to play at a higher level. Campbell says, however, that his decision was more about which sport was going to lead to more enjoyment anyways. 
"I think I was just going to enjoy [basketball] more, so that's what pretty much led me to K-Dub."
So, what leads a dual-athlete prospect to develop such a sudden conviction? As previously mentioned, the idea of playing defensive back at FHSU seemed like a foregone conclusion at one point, so what changed? 
As it turns out, the most impactful of events that shaped Campbell's decision took place on January 26th, 2020 in Calabasas, CA. That morning, a Sikorsky S-76B helicopter had gone spiraling down before crashing into a hillside, killing all eight who were on board. It was quickly revealed that one of those eight who had lost their lives was NBA Legend Kobe Bryant. Mere hours after he had celebrated courtside with LeBron James as James moved into 3rd on the all time points list (passing Bryant), he was gone. 
Almost immediately following the tragedy, it became clear the impact of Bryant's legacy through the stories shared by his former teammates, coaches, and even competitors. People were quick to recall his charm, his shot making ability, but most importantly, the lethal work ethic which separated himself from a field of world-class talent. More than anything, it was becoming clear that he meant something special to everyone, and Campbell was no exception. For someone who was literally named after the one they called "The Black Mamba," it made sense that such an earth-shattering event could have such an impact on a young, aspiring basketball player who was in the middle of deciding to stick to the hardwood at the collegiate level or branch out and excel on the gridiron. 
"I just realized that basketball was what I really loved to do," Campbell says of the moment he decided basketball was his true love. When reflecting on what Kobe Bryant meant to him, Campbell cites several admirable traits that Bryant embodied through the years that meant a lot to him. 
"It was just his personality. There really hasn't been anyone else like him. He was somebody who knew six different languages, went from high school right to the NBA and had to deal with the spotlight, was extremely personable and hard working. It's everything that everybody wants to be but not everybody can do it. I wanted to be like him on the court, but also off the court as well. When he smiled, it seemed like he lit up a room. All of the things he did with his daughters, his friends, and his business projects, I think that's what made him who he was more than even basketball. There's a lot of good basketball players who aren't good people off of the court, so that was the biggest thing for me with him." 
Since the untimely death of the former Laker great, Campbell had not only made the decision to try and carry on the legacy of Kobe on the court, but also aspired to be better in every aspect of life to become a more complete person off the court. With many different acts he has to juggle on a daily basis, "Mamba Mentality" as it's called helps to keep Campbell centered, focused, and ready for whatever unique challenges come his way. 
And it's a good thing he adopted this mentality a while ago, because there probably isn't much else that would have prepared him for his sudden ascension to the top of social media and TikTok. 
Campbell was encouraged to give the popular app a try by a high school friend in the Summer of 2019. His first videos were strictly available to only those who followed his account. Taking early advantage of the app before it had reached its current stages of popularity turned out to be key. After capitalizing on a marginally less-competitive playing field, his first publicly shared video received 70,000 likes. He then released a series of videos that continued to blow up and gain similar amounts of views and likes and, before he knew it, 40,000 TikTokers had clicked the red "subscribe" button on his page. 
Campbell's follower count took another drastic spike after some of his recent work creating rap content went viral, with these videos totaling anywhere from 250,000 to half a million likes. Furthermore, Campbell's efforts to create quality content were amplified once he began receiving financial compensation through his work. Once likes began translating into dollars, that's when his following and the digital image he created for himself had become his "brand." Only a couple of months ago, Campbell joined Sisipako Vihekite as the only two KWU students with over 1 million TikTok followers.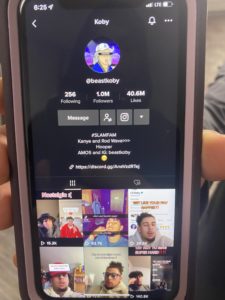 Specializing in pop culture-related content (mostly rap music), Campbell (a communications major) keeps his followers entertained by partaking in a variety of different challenges, giving his takes/opinions regarding new music, and recording his reactions to already-viral videos. Some of his work has caught the attention of celebrities such as former NBA player Richard Jefferson, Denver Broncos tight end Noah Fant, and even Instagram model Addison Rae. Campbell says that his devotion to keeping reactions/challenges completely authentic has served as his main competitive advantage.
"I see a lot of content creators, especially after they've blown up, faking their pranks and not being authentic. I definitely try to be as authentic as possible and I think that's one of the reasons that people like me." 
Not only does Campbell record his honest reactions and follow through on the challenges that he posts; he also makes a conscious effort to consistently stay updated on the most current rap music available so that he can stay informed and give his audience informed, nuanced opinions. He says that he listens to music for a large part of everyday so that he is always prepared to post new stuff or simply have an informed conversation about the hottest new rapper, song, or album. 
And these efforts aren't just appreciated by his followers. Campbell's hard work and dedication to maintaining his high-quality digital image has caught the attention of "Slam," an online content site that covers any and all things basketball (from high school all the way to the pros). He currently has control of the organization's TikTok page, where he manages and regulates the content that the company puts out on the app. When asked about the potential that the gig could have as a full-time occupation post-college, Campbell beamed at the possibilities and avenues that this platform could lead to. 
"That's a real job. I'm only doing it part time right now, but if I weren't in college then that could end up being a real, full time job."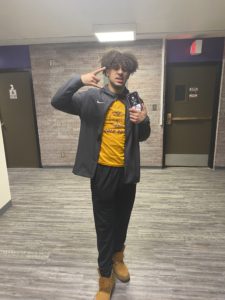 The past two years of Campbell's life have seemingly flown by like a Ferrari going 100 mph down an Interstate; when asked about his closing thoughts and reflections regarding the journey that basketball and TikTok have taken him on, it occurred to him in that moment that he had not once stopped and given it much consideration. Just like he had gotten caught up in tournament basketball as a young teenager, TikTok and social media have done the same thing years later. Before he knew it, he was managing his life as a college athlete, radio show/podcast host, and content creator for a million fans. Campbell's fascinating tale of unpredictability and seemingly-overnight fame are a true testament to the craziness of life and the potential surprises that may be hiding around each and every corner. Such is the beauty of life for the one they call "BeastKoby."
---
Reader's opinions
---