Bogeys: A Food Review
Written by Austin Harden on September 27, 2022
In Salina, there are many locally owned businesses, especially food related businesses. On Saturday, September 24, 2022, I decided to eat at Bogeys. 
The Building
Bogeys, similar to many old locally owned businesses, is a burger joint. Located at 1417 South 9th Street, this makes it only about a five minute walk from the dormitories of Kansas Wesleyan University. The building itself is hard to notice and could be easily not seen when driving on 9th street, but the big sign outside helps drivers notice the building. 
Bogeys was a fairly small building, dedicating about half to seating and half to the kitchen. While listening to the smooth country in the background, you can reminisce on the walls with old movie posters and headshots of actors/actresses. These circular framed posters really make the customer feel as if they had gone back in time and these movies were just about to be released in theaters. 
The Food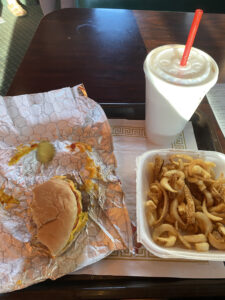 When I was ready to order, I informed the worker of being at bogeys for the first time. She described bogeys as having about one hundred different burgers and shakes. So naturally I ordered a double cheeseburger, with fries and a normal pepsi. After about five minutes of waiting, I got my cheeseburger that was wrapped in tin foil, similar to the chain Five Guys. The greasy burger was nothing special. It was loaded with tons of ketchup and mustard, which accidentally drowned out the burger. 
The curly fries were easily the best part of bogeys. These fries were the perfect combination of soft and crunchy, which made them very easy to feast on. Although I prefer very salty fries, these fries were not super salty but instead drew you in with their taste. I ended up eating more fries than the burger. 
After I was done with the meal, I decided to get one of their hundreds of shakes. I had gotten an oreo shake. The shake was very good. At first it was thick and hard to drink out of a straw, but once it melted down a bit, it was very good to drink out of the straw. I would recommend a straw and spoon for this shake, or fries to dip in the shake. Now I also enjoyed this shake much more, because it did not make me use the restroom immediately, which I admittedly, have a problem with most shakes from the likes of Sonic or Brahms. To see the full menu click here.
Conclusion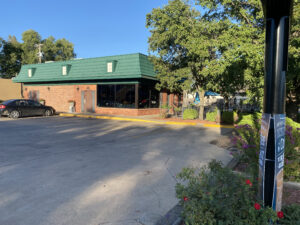 Overall my cost was about twelve dollars in total, fairly inexpensive. I would recommend Bogeys for customers that want a delicious dessert, or a local experience of Salina. Other than that, there is not much that sets Bogeys apart from any other burger joint. I'd much rather go to the Cozy Inn, where they have sliders that set them apart from the rest of the crowd. On a scale from one to ten, I would give Bogeys a six. A pretty mediocre restaurant.
---
Reader's opinions
---