Media Production Contributes to FOR Effort
Written by Victor Cascio on September 27, 2022
Our setting is the city of Salina, 1954. Filming for the 1955 film "Picnic" has just wrapped up along the banks of the beautiful, vibrant, flowing Smoky Hill River. City residents have resumed some of their favorite recreational activities, which include boating, fishing and even swimming. Salina is alive and well, rich in entertainment options due largely to Smoky Hill. 
Fast forward 65 years later, and the renowned river is a shell of its old self. What was once a magnificent waterway that played host to countless events, and memories, is now a glorified ditch; a massive makeshift path of dirt, rich with weeds, native fescue grass, and garbage. A deep, narrow, pit of melancholia that no longer provides timeless memories for Salina residents; a constant reminder of what used to be. 
The former pride of the city has now become the city's most prominent liability. How did we get here, and is there anything that can possibly be done to restore the once-beautiful river? That's where KWU's Media Production II class comes in. 
The Media Production II class is currently working with the Friends of the River Foundation in an effort to get the word out regarding the revitalization efforts put on by the city. The end goal is to create a better, more well-rounded living experience for those who call Salina home through waterway restoration. 
The project will be expensive in more ways than one and require a lot of assistance, not only from a financial standpoint, but from a volunteer standpoint as well. As such, students have constructed several different types of projects promoting the work of the Friends. Originally, the group gathered several shots of the river and put together a video promoting the 1st phase of the mission and encouraging viewers to contribute to the cause. Currently, students are creating individual works that focus on specific aspects of the restoration project. This cohesive effort has been a great way for the project to gain exposure while also giving prospective communications students hands-on experience. 
Senior Sisipako Vihekite is currently putting together a "Man on the Street" interview compilation, where civilians provide insight and offer up their answers to the question, "What are you most looking forward to with the restoration of the Smoky Hill River?" Vihekite says that the experience has been valuable, and it serves as a payoff for the other Communications classes he has taken to this point. 
"I think we're taking classes built for this kind of project," says Vehikite. "I think being involved with these classes and being able to use our skill set in real life has helped a lot and I think this will benefit us a lot outside of college as well." 
Senior Diego Fisher is another member of the Media Production class who has been contributing to the effort. Currently, Fisher is working on a project entitled "This is Happening," which aims to provide the general public with some brief knowledge on some key details of the endeavor. By providing his audience with a visual of the river in its deteriorated state, as well as a pitch of what the river can look like with a little bit of work, Fisher hopes to lure community members in and provide contributions of their own. Contrary to popular belief, Salina is a city that is plentiful in entertainment and recreation, breaking the mold of the Central Kansas "cow-town" stereotype. Fisher thinks that a revitalized river can add to an already-impressive slew of entertainment selections for the city.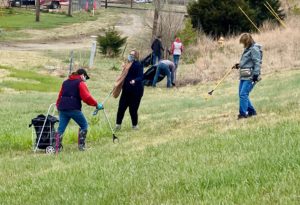 Says Fisher, "Salina is somewhere in the middle of nowhere. For being a small town, there is already a lot to do. I think that restoring the river and bringing in things like the Iron Avenue Plaza could bring more tourists to the area. It's also right by downtown, so people can go grab a bite to eat and then walk by the river."
Not only is the river restoration a great project that will bring new people to the area; it can also serve as a pitch from the university to potential students. Fisher continues, "For future students, it gives them something to look forward to. They can hangout by the river, fish, or even hop in. It just gives them another place to hangout besides the dorms and brings a little more life to the city." 
As previously mentioned, this collaborative project has not only served to accelerate the promotion of the Friends of the River and their encompassing mission to restore the river to its former glory, but also to provide hands-on, valuable experience for a line of students to desire to work in a competitive field. As we know, Kansas Wesleyan is all about "the power of and." What this project serves to accomplish is a perfect fit into that motto; valuable contributions, hands-on work, AND the ability for students to serve a purpose for the greater good.
As professor Green always says, "a society grows great when old men plant trees whose shade they shall never sit." KWU students and the Friends of the River will continue to plant the trees so those who come after can enjoy their shade for years and years to come.
---
Reader's opinions
---