Catching Up with Jackson Schneider, Voice of KWU
Written by Victor Cascio on September 27, 2022
Some of the biggest moments in sports history attained that stature they have because they were aided by a fantastic call by the play-by-play. A good call from the announcer can be the final piece to the puzzle, with the excitement oozing from their voice elevating the moment to iconic status. It can be a difficult skill to master, but an exciting game with an announcer who displays professionalism and enthusiasm can make a fan's viewing experience complete. 
Here at Kansas Wesleyan University, Coyote followers are fortunate enough to be treated to a high-quality fan experience thanks to Jackson Schneider, the former KWU/KU student who now works as the director of sports at Meridian Media. As part of his occupation, Schneider is on call for KWU basketball and football and does some additional work covering other high school sports in the Salina area. Schneider has been a fantastic addition to the KWU team and has done a phenomenal job calling games in addition to hosting the weekly KWU Coach's Corner radio show.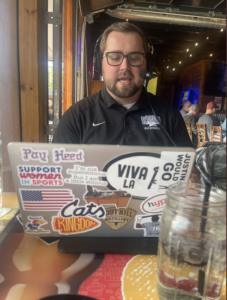 Schneider began his post-secondary education at Kansas Wesleyan University, where he played for the school's tennis team. He had always had an interest in the field of sportscasting and was able to get some cracks at it courtesy of KWU's Sports Information Director David Toelle. He immediately took a liking to the work, and eventually found his niche as the main play-by-play broadcaster for KWU softball and baseball. This was about the point where Schneider began to develop a true affinity for calling games.
 "I ended up doing some softball and baseball and really just ended up falling in love with it," recalls Schneider. "For me, there's not many things better than going to a game having that be the work you do."
Schneider continued to hone his skills during his sophomore year and eventually realized that Sports Broadcasting was what he wanted to focus the entirety of his attention on. After reaching that conclusion, the Lawrence-native set out to finish up his undergrad at the University of Kansas to maximize his potential. He was quickly immersed in a plethora of sportscasting-related opportunities, ranging all the way from radio shows to chances to call games for KU football, basketball, softball, etc. He eventually became the sports director of the student radio station and notes that that was when he realized that he had a knack for the industry. 
After completing a couple of internships during his Summers in between semesters, he found work right away covering local high school sports in Colby, Kansas. After his stint in Colby, Schneider did some work covering Junction City local athletics in addition to Kansas State before landing his current gig as the Meridian Media Director and voice of Kansas Wesleyan and Salina High School sports. In addition to calling games and hosting radio shows, Schneider also oversees the sports schedule for various Salina-area radio stations. He'll also spend some time covering professional teams and storylines, reporting, and keeping the radio station website up to date. 
One of the elements of Schneider's expertise is his ability to effectively commentate on several different sports. However, one of the tricks of this trade is to be able to go about preparation in a various array of methods; preparing for a football game, baseball game, and basketball game all come with their own unique challenges. Schneider provided a breakdown of what makes each sport's prep work unique
Basketball
Schneider says that given the fast-paced nature of basketball, most preparation work revolves around getting familiar with the players that will see the court the most for both squads. Knowing the tendencies of different players is a key aspect of getting ready to call a basketball game. "Whether it's looking at stats and seeing players that shoot a lot of 3-pointers or players that are always rebounding the ball, those are key things to look out for."
Football
Schneider notes that basketball and football preparation is similar in that knowing player tendencies is crucial, but also that there is a lot more time in between plays to break down the previous action and slip some statistics/player notes into the broadcast. "With being more in-depth and detailed, football sort of affords you that ability."
Baseball
Baseball is far and away from the most unique broadcasting style of the three due to its more laid-back, slower-paced nature. As such, broadcasters can easily slip in-game notes as frequently as in between pitches. There is lots of time for broadcasters to fill dead air when there is little to no action on the playing field. "There's a lot of time between pitches/plays for you to talk about almost anything, whether it be interesting stories about players or coaches, or just anything interesting that's happening in the world."
As far as recommendations or advice Schneider has for any young, aspiring broadcasters who wish to enter this line of work, his number one word to the wise is to "fall in love with the process before falling in love with calling games," which was a piece of advice offered to him by the current voice of the Kansas Jayhawks Brian Hanni. By this, he means that gaining an affinity for the research and preparation aspects of the job is critical because that is how a broadcaster becomes an expert on the team he or she is covering. In turn, this will make for a much more well-informed, successful broadcast.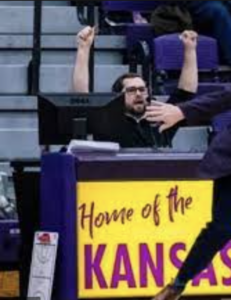 "You have to enjoy digging up the numbers because you're supposed to be the most informed out of anyone. Your listeners rely on you to have that information and if you don't enjoy that, it's going to be very difficult to enjoy broadcasting in general because, in order to do that well, you have to enjoy the process." Another suggestion from Hanni to Schneider was "say yes to everything." Being a dependable worker will keep invitations coming for future broadcasts from various media outlets, allowing a broadcaster to maximize experience and exposure. 
As previously mentioned, Schneider can be heard at work on various coverage of KWU and Salina High School athletics, in addition to his weekly Coach's Corner show, airing Monday nights from 6:00 pm to 7:00 pm. A pro's pro and fantastic role model for those looking for tips and tricks to perfect their broadcasting skills, Schneider is a great resource and can provide valuable insight that will have you transcending as a broadcaster.
---
Reader's opinions
---