A Murder Burton Didn't Commit…
Written by Kyra Nolan on September 22, 2022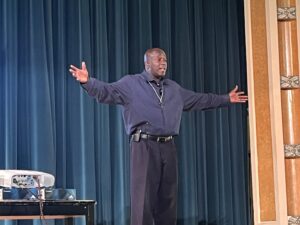 Darryl Burton is a man who was convicted of murder that he didn't commit in St. Louis, Missouri in 1984. Burton comes from a large large family who was all about going to church. A day comes where he needs Jesus on his side. It all started with a witness who lied under oath. Burton is confused because he knew he did not fit the description. The police are looking for a "tall light skinned man" and Burton is neither tall nor light skinned and not to mention he wasn't even around St. Louis when the murder was committed. All because a witness lied he was convicted in less than an hour.
Not only did a witness lie but the judge, prosecutor, and Burton's own lawyer knew of another suspect that matched the description perfectly but never told the jury. This other suspect shot at the victim on 3 other occasions but they ignored and sent Burton to prison anyway.
Burton was furious at what was happening to him.
He felt like he was the only person in the world who had been sent to prison while being innocent. He was separated from his daughter when she was 7 months old and did not see her again until she was 25 years old. Burton tells the jury, "I don't know how long it's gonna take but I will continue to fight this case even from prison." He describes the Missouri State Penitentiary as an "evil place". While in there he would hear about 3 men a day who were assaulted by other men. He was put in "the hole" because he didn't want to obey orders. The hole is a place where you have no human connection. He felt like he was going crazy because all humans crave human connection.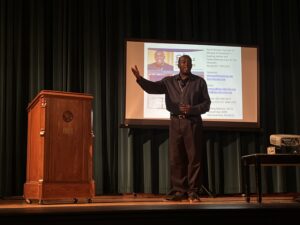 While Burton was in prison he fought for his case as hard as he could. He was afraid all the time. The day he was put there, a man was stabbed and the day he was released a man was being rushed to the hospital because another man was trying to decapitate him. He wanted out of there so bad but no one else would help him. They looked at him as if he had done something wrong even though none of them knew the whole story. He kept trying to get another trial over and over and over but was alway denied.
Darryl "Denied" Burton.
Burton was denied so many trials that they started calling him Darryl "Denied" Burton. He almost gave up asking for help until he discovered a church that helps "sinners". The church was called Centurion Ministries and was made to help free innocent people from prison. They wrote back to him saying it would be 10 years before they could help him. He thought to himself, "I'm sentenced to 48 years whats 10 of those years trying to fight for my freedom". They didn't get him free until 8 years after they took his case. Thanks to Cheryl Pilate, his attorney, he now walks today as a free man.
"Love the people who are your enemy".
Burton likes to go off a verse from the bible that says "love the people who are your enemy". He had nothing but hatred for law enforcement and anyone involved in the law for what had happened to him. Even though he hated them he loved them because he would not be the man he is today without all of those people. He had to look on the positive side of things. Like how if a woman who was there the day the crime was committed wouldn't have shown up to his trial and said they had the wrong man because Burton was "too dark" he would've had to serve all 48 years in prison. It took Burton almost 25 years of fighting for his freedom for him to finally be set free.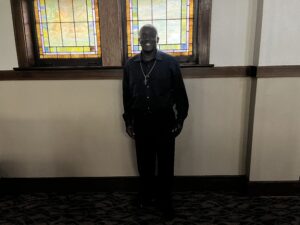 Burton became a pastor to tell his story and spread the message of God. He started the Miracle of Innocence Project to help people who had been sent to prison innocent just like him. He has a movie and a book coming out soon to help him share his story with the world. The Miracle of Innocence Project is working on rescuing a woman who is currently serving time for "killing her ex husband and his girlfriend" when she wasn't in the state. They have found evidence on the person who killed her ex husband and his girlfriend and have almost got her free. Burton said "If they can do this to a middle class white woman, they can do it to anyone".
Still Much Work to Do
In the last 5 years the Miracle of Innocence Project has helped 4 individuals gain back their freedom. They are working on 3 more cases as their 4th individual gets out of prison. They go all over the world trying to send their message and help others across the world. Darryl Burton is a brave man who had something horrible happen in his life but instead of giving up he pushed through. He kept fighting because he knew he was innocent and was going to show the whole world that he was innocent. We should all take away from Burton's speech to never give up even if it looks like there is no hope. 
You can learn more about Darryl Burton and his story by clicking here. 
---
Reader's opinions
---