KWU Debate/Forensics Finishes Up Impressive Year
Written by Victor Cascio on September 21, 2022
One of the biggest selling points made by Kansas Wesleyan University to prospective students is their unmatched record of excellence outside of the classroom, specifically in the form of sport and competition. Sports such as football and golf, in addition to other extracurricular activities such as DECA, continue to go above and beyond and reach new heights as programs. Simply put, the KWU 'Yotes are rolling on every level. But often overlooked are the non-athletic activities at which KWU students excel, such as Debate and Forensics. 
However, the KWU organization that currently stands alone right now in terms of success and dominance is the Kansas Wesleyan Debate & Forensics team. Led by first year head coach and KWU alum Kiefer Storrer and standout performer Abby Wray, KWU Debate & Forensics is fresh off the heels of its most successful season as a program yet. After competing in both Florida and Virginia against some of the top programs in the nation, Kansas Wesleyan walked out of both tournaments with a combined nine national championships – three times the mark of last year's impressive season. 
At the helm of the most successful team on campus is Kiefer Storrer, a former student at KWU turned head coach. Storrer was an avid debater in high school and cited KWU's strong debate program as the primary reason for him selecting Kansas Wesleyan. After 4 years at KWU as a debater, Storrer landed in Warrensburg, MO where he served as a graduate assistant debate coach at the University of Central Missouri. From there, Storrer headed out west for a couple of years where he coached at Maricopa CC (formerly Glendale CC) before landing back at his alma mater as an assistant coach last year and then taking over as the head coach this season. 
During his college years, Storrer excelled mostly as a parliamentary debater in addition to a plethora of speaking events. Since he began coaching, however, Storrer says that he has really expanded his knowledge of all debate and forensics events, which has paid dividends as he transitioned into a head coaching role for the first time. 
"That was one of my biggest lessons going from a competitor to a coach," says Storrer. "You need to be able to coach everything and adapt to what your students want to do, because you can't teach passion." Storrer also notes that his extensive knowledge of debate & forensics as a whole is what has allowed him to play the role of an effective recruiter as well. 
One of the biggest advantages Storrer enjoys over fellow coaches is being the successor of renowned debate & forensics coach and KWU legend Gary Harmon. When discussing Mr. Harmon, the term "lifer" seems to describe him perfectly. Per the Salina Journal, Harmon spent 55 years in education in schools and universities all across the state, including spending time at Kansas State University before spending the final 16 years of his career at Kansas Wesleyan. Career accolades include: coaching 5 state champions in debate; Salina Teacher of the Year, National Speech & Debate Association Hall of Fame inductee; Kansas Speech Hall of Fame inductee.
"Coach Harmon instilled so many values in me and I'm in a really good position to continue cementing my legacy," says Storrer on studying under the tutelage of Coach Harmon and how that has helped him come into his own as head coach. 
As critical to success as a good coach is, a championship team is not complete without its star players; Phil Jackson had Michael Jordan, Bill Belichek had Tom Brady, and Joe Torre had Derek Jeter. For KWU debate & forensics, Coach Storrer's standout star is junior Abby Wray. Wray continues to dazzle with her absolute dominance over the competition, raising the bar and making the competition look easy.
Although Wray dabbled in debate as a highschooler, she did not initially expect to participate as a college student. However, she decided to give it a try after Coach Harmon was able to change her perception of debate and forensics. Following that, Wray tooker her position on the team and ran with it, becoming one of the most outstanding forces in college debate. It wasn't long before she had her sights set on taking home a national championship. 
"[Coach] Harmon turned me into a debater," says Wray. "Ever since he turned me into a debater and I got this newfound respect for it, the goal was a national championship."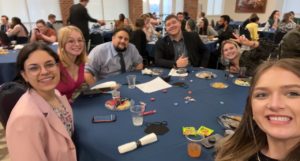 Safe to say, Wray got her national championship and then some. Whether it was by herself or paired up with her partner in crime, Savannah Bonilla, Wray spent the entire season racking up win after win and stockpiling her trophy case. Wray was victorious in every debate event in which she entered except one and was also the recipient of the Pi Kappa Delta All-American Award (this award is only given out every two years and Wray was competing with mostly seniors for the honor, making the feat that much more impressive). Additionally, she was the first place recipient in the POI (Point of Information) competition as well as a national champion in the Interview competition, which is specific to only national conventions. 
Wray's run of success is so unprecedented that it shapes her entire perception of what is possible going forward. As previously mentioned, Wray is only a junior. She has another entire season to build upon an already-strong list of accomplishments. As such, Wray has shifted her focus from simply winning one national championship to branching out and winning national titles in as many types of events as possible. 
"I think the goal at this point is to be as diverse in my national titles as possible," Wray remarks. Wray currently has five different national championships in five separate events. She only needs national championships in duo interpretation and poetry to have national titles across the board in interpretive events. "I think to be diverse in my winnings is very unique, and that's the plan for next year." She also notes that she would like to add another debate title.
The most exciting part about the previous season is that KWU debate & forensics is truly only scratching the surface in terms of what is possible in the future. Coach Storrer will continue to develop as a coach and Wray still has one more year on the team. When asked about what such immediate success this season can do for the team's future, Coach Storrer beamed at what's possible. After joking about how the team is on pace for 27 national titles last year (KWU took home three titles in 2021 and nine this year, meaning they tripled their winnings), Coach Storrer does still believe that there is more to be had out there.
"It's huge that we set this record out of the gate because we're only going to get better. Having this year there were a lot of learning experiences too for me and the students, but I think they've seen what we're capable of doing, so let's do it next year better."
---
Reader's opinions
---