Evolve Nutrition; Smoothie and Juice Bar
Written by Thalia Ramirez on September 21, 2022
Evolve Nutrition
Publications 2022: Thalia Ramirez
What is it? Why go?
Looking for a yummy and healthy drink after your workout? Evolve nutrition is the just the place. Eleighny Renee owner of evolve is a recent graduate from high school who found herself wanting to pursue something that can help herself and others accomplish their health and wellness goals. What better place to start a business than in Salina, Kansas; located on 2113 E Crawford St. Because Kansas Wesleyan University is primarily composed of athletes, Evolve calls the attention of students with a fun and welcoming hangout environment as well as protein shakes, teas, and snacks! The location is accessible to anyone in the community or those just driving through town! For those who play golf, baseball, or softball the fields are just down the street making it optimal to grab a drink on the way home from a game/match. 
Success in the Business
In the short amount of time that Evolve has been open Eleighny posted on her tik tok account about the tremendous amount of love and support her business has received from the community. If you follow their social media accounts they do a great job of staying active and coming up with new specials for different holidays and events of the week. This not only keeps things new and exciting but it helps get you to expand your choices in the long list of flavor options such as this month's flavor: the caramel waffle cone.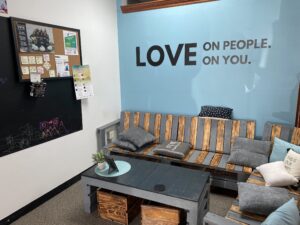 Hours of the week are 7-4p Monday-Fridays and 9-1p on Saturdays. There are a few options for seating including a bar style area where you can talk to the employees. Whether that's telling them about your day, asking them about their nutrition options, or just getting to know each other. If you're a first timer you could get the opportunity to get your picture taken to put up on the wall of customers and possibly get featured on one of their social media posts. 
What's Happening this Week
Grab a friend and stop by this week to participate in the Salina South Volleyball Pink Out Fundraiser on Thursday September 15th where a portion of all fundraiser teas plus all tips will go towards supporting 3 senior moms fighting cancer. Or Celebrate Evolve's 1 year anniversary on Saturday September 17th with some Birthday specials! Follow @evol.venutrition on Instagram https://www.instagram.com/evol.venutrition/?hl=en and Facebook https://www.facebook.com/evolve.67401/ to stay up to date on how we can continue helping each other and our bodies!
---
Reader's opinions
---