Coyote athletics rundown: how Kansas Wesleyan performed over Homecoming weekend
Written by Aubreigh Heck on November 2, 2022
Homecoming weekend ended with a 62-0 victory for Coyote football over Tabor College. Find out how all Kansas Wesleyan athletics performed over the weekend right here. 
Football 
The No. 25 Coyotes boosted their record to 6-2 after their win against the Blue Jays on Saturday evening. 
Even though the Kansas Wesleyan defense prevented Tabor from reaching a first down until late in the first quarter, the highlight of the game came from special teams. 
Senior kicker Aaron Main tied the school record for longest field goal ever made after kicking a 51-yard field goal. Main continued his perfect game, going 8-for-8 on his extra-point attempts and 2-for-2 on his field goal attempts. 
The Coyotes will be the visitors against Ottawa University next Saturday. 
Volleyball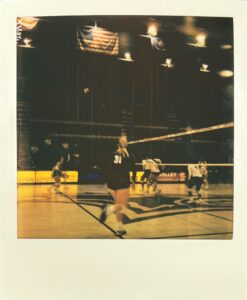 Photo by Jason Traister
KWU continued their successful season against a struggling Tabor team, beating the Blue Jays 3-0 Friday evening at Mabee Arena. 
Kansas Wesleyan won the first two sets 25-19, and won the last set 25-8. 
Senior Morgan Bryand led the team in kills off the bench. She leads her team with 220 total kills for the season. 
The Coyotes now sit at a 21-6 overall record, and are 6-2 in conference play. They have four games left in the regular season, their next home game being against Bethany on Nov. 2. 
Cross Country
The NAIA MidStates Classic in Winfield ended with an 11th place finish out of 16 for Women's Cross Country, and a 3rd place finish out of 17 for the Men. 
Freshman Madisyn Ehrlich finished the 5k faster than any other Coyote on the women's side, with a time of 20:21.57. She placed 35th overall. 
For the men's 8k, junior Austin Hess was the fastest for Kansas Wesleyan. His finishing time of 26:47.67 placed him at 18th overall. 
Soccer
Neither men or women's soccer finished Saturday with a win, as the women's team finished with a 1-1 draw against Southwestern College, and the men lost 6-1 to Southwestern.
Senior Kayla Deaver secured the draw for the Coyotes when she scored with six seconds left. She leads her team with 22 goals on the season. 
The lone goal scored for the men's team came from sophomore Israel Good. 
The women's team now has a record of 9-5-1, and the men have a record of 2-12-1. 
Both the men and women's teams play No. 6 Oklahoma Wesleyan University for their final home game of the regular season. The women's game will start at 5:00 PM, and the men's game will start no later than 7:30 PM. There will be senior festivities in-between games.
---
Reader's opinions
---