KWU Hosts: Family Weekend 2023
Written by Nicolas Fierro on September 23, 2023
By Nicolas Fierro / Staff Writer
KWU Hosts: Family Weekend 2023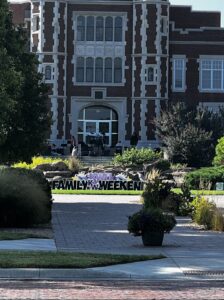 Kansas Wesleyan hosted its annual Family Weekend. Students have the chance to reconnect face-to-face with their families as KWU organizes events and activities for the weekend.
As students are in the wake of their first semester of the 2023-2024 school year, it gives them an edge to continue their journey of study.
The Johnson Family
Maddie Johnson, a junior at KWU was one to reconcile with their family. Her father, Jason Johnson comments about his third experience at Family Weekend.
"This one has lived up to its expectations from the previous years. This was an obvious choice when we first came down to visit the school," says Johnson.
Johnson also discusses his personal perspective on KWU, "I love the campus and the Arts program that my daughter is in," said Johnson.
The DuBois'
Janet and Ken DuBois were a couple that visited. The DuBois' graduated from KWU (Ken in 1963 and Janet in 1964) and have noticed some changes in the school.
"The number of students has definitely increased, more programs and classes are available," says Mrs. DuBois.
"It is almost twice the size now, than when we were students. The buildings are also an addition after we graduated," comments Mr. DuBois.
The DuBois' always feel connected with KWU, now with technology and the improvement of communication over the years.
The DuBois' also have a personal connection with David Corman, Director of Vocal Music and Assistant Professor of Music at KWU. The DuBois' and Corman work together at Trinity Methodist Church.
Family Weekend Football
KWU football kicked off their fourth game of the season on Septemb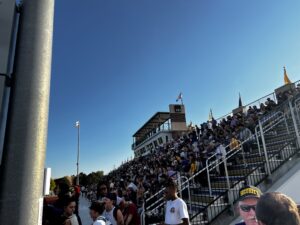 er 16th, hosting Friends University. KWU football came away with the victory of 35-28.
A large crowd of students and families attended JRI stadium which surged the coyotes to obtain the win. The crowd stayed at the start of the first to the last whistle of the game.
---
Reader's opinions
---