Day in a life of a Coyote dancer
Written by Lily Roberts on September 24, 2023
By Lily Roberts / Staff Writer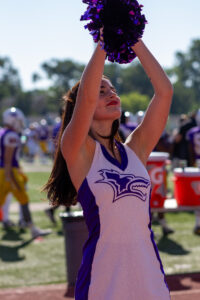 Kansas Wesleyan University had its second home game on Saturday, September 16, against Friends University. Compared to the last game, the attendance numbers grew, and the crowd's energy levels were off the charts cheering the Coyotes on. The dancers and cheerleaders also influenced the cheers from the crowd, with loud and strong voices and smiles on their faces. One of the captains on the dance team is Kyla McLaughlin, a senior from Havensville, Kansas. She was more than happy to give us a sneak peek of a day in the life of a coyote dancer at Kansas Wesleyan University.
McLaughlin began her Saturday morning with a mandatory event, The Fe for a Cure 5K run through downtown Salina. All of the Kansas Wesleyan dancers and cheerleaders were required to cheer along the runners, and were placed along the route.
"It was a great morning for a 5K, and I'm glad that we (Kansas Wesleyan dance and cheer) were able to show up for our community of Salina, and show support to people who continuously show up at our games. It felt nice to give back."
Next, she had to complete her uniform for the game night's outfit by going to Dicks Sporting Goods and buying a pair of black biker shorts.
"Sometimes our coach (Claire Schmidt) likes to change up outfits, specifically for hip hop routines. So, for the girls that don't have certain attire for the required outfit, we have to purchase them. But luckily, there are many places in Salina to purchase clothing that we need for cheap. We are college students after all!"
The day flew by and it was almost time for game day. McLaughlin went through her routine to get ready, explaining what makeup is required and how we do our hair. She showed how to pack her dance bag, with items that aren't mandatory, but are good things to bring to keep energy up and spirits high.
"Snacks, water, and any medications are always good things to have on hand. Game days are long and we get tired quickly, especially if the weather is warm."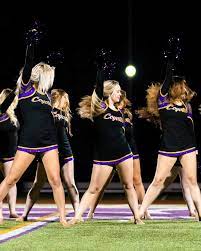 Kyla McLaughlin and the other dance and cheer girls are always more than welcome to show school spirit, and it definitely brings the culture and school spirits up.
---
Reader's opinions
---