Football outlasts Saint Mary's on homecoming weekend
Written by Beau Grant on October 24, 2023
By Beau Grant / Co-Sports Editor
The Kansas Wesleyan football team took on the Saint Mary's Spires for the 2023 homecoming game. Head Coach Matt Meyers knew this was an important game going in, "St. Mary will challenge us in ways we haven't seen this season," and challenge they did as Saint Mary's kept it close all game.
The Coyotes got the scoring going early in the 1st quarter with a 6-yard run by senior running back Nick Allsman. Saint Mary's Responded 3 minutes later with a touchdown pass by quarterback Michael Gazzana.
Kansas Wesleyan got on the board two more times in the 2nd quarter, first by way of the field goal by Talon Cope. That extended the lead 10 to 7. Kansas Wesleyan quarterback Byran McNair was making his second career start for the Coyotes, and he connected with Jacquante Pitts for a 67-yard touchdown pass, making the score 17 to 7 going into the half in favor of the Coyotes.
There was no scoring in the 2nd half, mainly Kansas Wesleyan trying to control the clock. The closest they got to scoring was a 23-yard field goal attempt early in the 4th quarter that was blocked by Saint Mary's. The Coyote defense was stellar the whole game but especially in the second half. With a little over two minutes left in the game, McNair connected with fullback Artaveon Shavers on a 4th downplay, the catch was good for 13 yards and a Coyote first down that essentially sealed the game.
"I had to catch it," said Shavers.
Shavers was the Coyotes leading receiver, which is unusual for a fullback. Shavers caught 5 passes for 88 yards after entering the game with 2 receptions for 15 yards on the season.
Nick Allsman led the Coyotes on the ground with 47 yards on 11 carries and a touchdown. Tyler Boston and Mark Benjamin also contributed to the running game.
Byron McNair completed 14 passes for 292 yards with 1 touchdown and 3 interceptions. Though the interceptions weren't bad passes, they were either tipped or off the receiver's hands.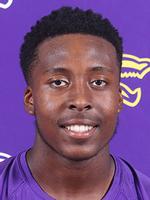 Shaylan Lewis led the Coyotes in sacks with 2 on the day and had 3 tackles for loss out of the team's 12.
With the Victory, the Coyotes notched their 5th consecutive win and improved to 6-2 on the year. They will take on the Tabor Blue jays next Saturday in Hillsboro. The Blue jays are 2-6 on the year and lost to Avila 35-17 on Saturday.
---
Reader's opinions
---